Project summary
This project is an answer to European Space Agency's (ESA) invitation to tender ESA/AO/1-7759/14/SB-NC, Exploitation of the Mesosphere (MesosphEO) with the Finnish Meteorological Institute (FMI) as the prime contractor. The aim is to provide the atmospheric science community a comprehensive data set of Level 2-3 and merged mesospheric data products covering a time period of at least 10 years from satellite instruments on the Envisat (GOMOS, MIPAS, SCIAMACHY), on the Odin (OSIRIS, SMR), and on the SCISAT (ACE-FTS). The MesosphEO activity is financed by the STSE Programme of the European Space Agency.
MesosphEO is a science-driven project, but it also serves as preparation and support for possible future mesospheric work, e.g., in the lines of the ESA Climate Change Initiative (CCI) projects on Essential Climate Variables (ECV). Major mesospheric science questions driving the MesosphEO project are:
Understanding the mean state
Trends and decadal (e.g. solar-cycle) variations
Response to variability in wave forcing
Response to impulsive solar events
Coupling to altitude regions below and above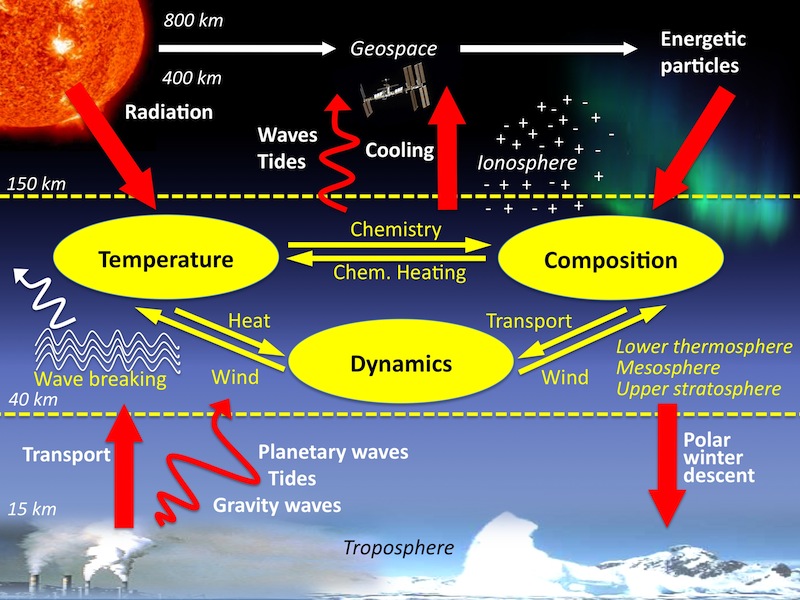 Figure: Overview of the mesosphere-lower thermosphere region. Credit: IAA.